HIS 110 (CRN= 63792)
One World One Health: Humans, Animals, Environment
Professor D.K. Davis, DVM, PhD
Spring 2016: Fridays, 10-1; 108 Hoagland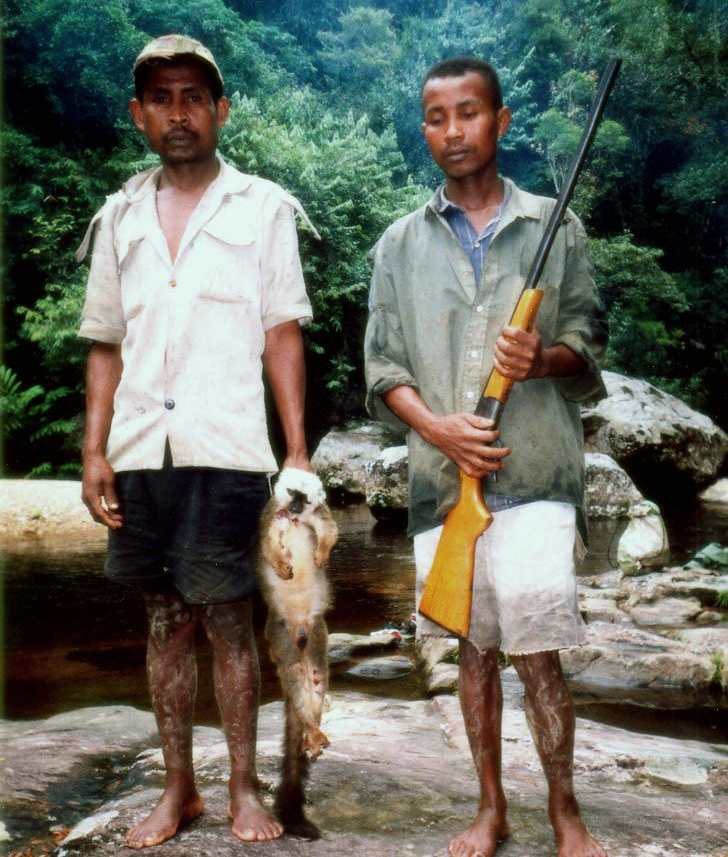 "Bush Meat." This photo illustrates the intimate interactions between humans, animals (this lemur was poached for food)
and the environment common in many parts of the world. Such relations often help to spread emerging diseases
such as Ebola and HIV. Source: Wikimedia Commons.
Course Description:
This course presents the exciting development of the "One World, One Health" approach and will introduce students to the complex history and present of "One World One Health" initiatives widely being implemented around the world over the last decade. "One World One Health" aims to bring together specialists from human and veterinary medicine and environmental science to create a more comprehensive and holistic approach to public health and international development. The vast majority (70% or more) of new and emerging diseases are zoonoses (diseases spread from animals to humans). Therefore, comprehensive understanding and policy development require an integrated knowledge of human medicine, veterinary medicine, and the environment. In response to this great need, the "healing arts" and environmental sciences are having to reintegrate themselves in ways not really seen since before the nineteenth century when knowledge became fractured into distinct and ever-specializing "disciplines." We will study the history of the healing arts (human and veterinary medicine) and environmental knowledge, how these were slowly separated into separate disciplines that rarely communicated with each other, and how the goals of "One World One Health" are being realized today with the current focus on "interdisciplinarity." Both historical perspectives and contemporary case studies will be provided. Students from ANY major are welcome in this interdisciplinary class!
Readings (subject to change):
1)
Porter, Roy (1999) . WW Norton;

2)

Dunlop and Williams (1996)
A series of articles will complement these two books.
Fulfills the GE Social Science and Arts & Humanities requirement
as well as the Diversity (WC) and Writing requirement.
This description subject to change